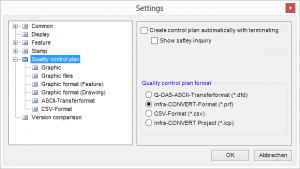 Create quality control plan automatically on exit: This sets whether the quality control plan is saved automatically when the drawing is closed or when ending an infra-CONVERT session.

Confirmation message: This setting results in a query window that asks whether you want to save the quality control plan option when closing a drawing or ending an infra-CONVERT session.

Quality control plan format: This option sets in which format the quality control plan is saved.
For more information on quality control plan formats see: ⇒ Supported quality control plan formats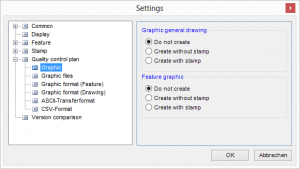 Graphic for general drawing: This option sets whether and in which form infra-CONVERT creates a graphic for the complete drawing.

Feature graphic: This option sets whether and which form infra-CONVERT uses for the feature graphics when creating a quality control plan.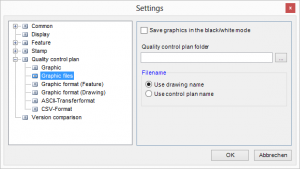 Graphic in black / white: This sets whether infra-CONVERT creates quality control plans in monochrome. In this mode, all lines are shown in black and the background is automatically white. If A CAD drawing elements saved in RGB colour codes, these remain unchanged.

Directory for quality control plans: At this point you can select a directory in which to automatically save quality control plan graphic are saved.

File name: This option sets whether the file name assigned quality control plan graphics includes the drawing or quality control plan name.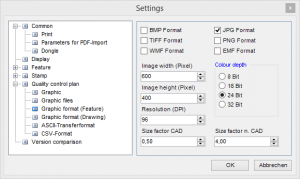 This option is used to set feature graphic file format, the resolution and colour depth for features.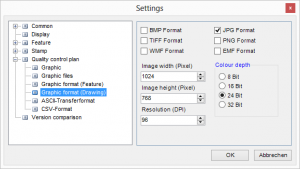 This sets the file format of the graphic, and the resolution and colour depth for the entire graphic.
Info: If you choose any other format than BMP, please make sure the image with is not bigger than 8192 pixels and the image height is not bigger than 6144 pixels.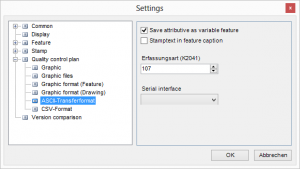 This option is use to save data in Q-DAS ASCII transfer format.
Save attributive as variable feature: Parameter K2004 is set to 0 for attributive features.

Stamptext in feature caption: Parameter K2002 is generated from the stamp text and caption.

Creation type and Serial interface: Parameter K2041 contains settings for data creation with Q-DAS products.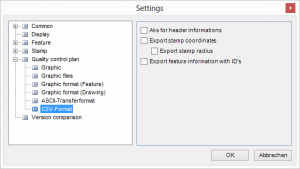 This is option is used for setting CSV text format.
Ask for header information: This dialogue option sets whether additional data is added to the header when saving in CSV format. When activated a dialogue opens on saving to ask for additional quality control plan information. Component number and label are automatically generated via the file name.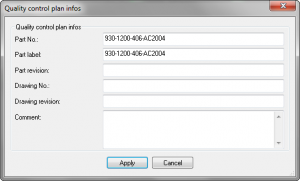 Export stamp coordinates: This is used to set save stamp coordinates in the csv file. Each stamp is assigned position and direction as X and Y coordinates in the drawing.

Export stamp radius:1)

This is used to save the stamp radius with the coordinates.

Export feature information with IDs: This is used to assign an additional ID in the csv file.